Injection Molded Cases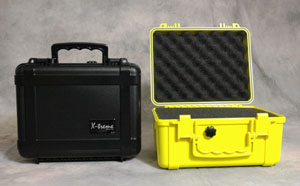 Fieldtex is your source for injection molded plastic cases. Made of durable fiber-glass reinforced ABS, these compact cases are lightweight, water-tight and will not rust or corrode. Consisting of single piece construction with stainless steel pins in hinges and latches, these cases feature a closed cell neoprene o-ring to make them waterproof, positive snap latches and a combination handle/hanger.

The various sizes have been pressure tested to depths beyond 100 feet. Some boxes have been placed under the wheels of vehicles with no effect to the box whatsoever.