Manufacturing Capabilities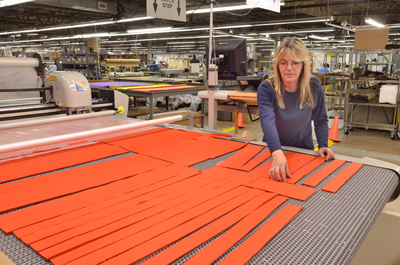 Since 1972, Fieldtex Products has invested both time and money in mastering in a wide range of production capabilities to produce custom soft sided cases, back packs, vests, holsters, pouches, covers, webbing assemblies, transfer sheets, straps, and belting, all with the goal of enhancing our competitiveness in meeting customer requirements.
We have also developed relationships with key supply partners to rapidly provide new capabilities and materials when the need arises, without delays to our customers.
We are well positioned to produce products for industrial, commercial, medical, military, government, and OEM markets with unique products conforming to customer specifications.
Our uniqueness is the creativity and innovation of our designers, engineers, and builders to meet the rigorous demands of our customers and their projects. We go above and beyond to understand and research new technologies, materials, and capabilities to provide a cost effective solution for our customers on their project.
Our current capabilities include:
Cutting a wide variety of woven and non woven fabrics, plastic sheet, web, velcro,
and foam materials
- Computer Aided Manufacturing (CAM) system for precision cutting
- Eastman EC3 Conveyer Cutting System
- Gerber GTxL Multiply Layer Cutter
- Hydraulic Traveling Head Die Press with 20" x 20" cutting head
- Automated Web/Velcro Cutters
- Guillotine

Over 100 Industrial Sewing Machines with customized tooling to perform
the following operations:
- Automated Bar & X Tack
- Single Needle: both light duty and walking foot
- Double Needle
- Binding
- Surging
- Zig-Zag
- Molle
- Buttons & Hooks
Other capabilities:


- Labels
- Screen Printing
- Heat Transfer
- Hot Paper Transfer
- Embroidery
- Power Paper Drill Press
- Snap/Grommet/Rivet Hardware Attachment
- Heat Sealing
- Laminating
- Assembly and Kitting