Material Selections
1000 Denier Cordura

A heavy-duty fabric constructed using high tenacity nylon fiber from INVISTA®. This fabric is the industry-leading choice for a variety of heavy duty applications such as outdoor gear, luggage, military gear, sport and duffel bags, backpacks, briefcases, wallets and a variety of custom cases and covers. This heavy-duty Cordura® fabric is a best-seller. Designed for maximum durability and long-lasting performance. Mil-spec Cordura® is available upon request but may require minimum lots.

400 Denier Nylon Pack Cloth

A versatile medium weight, flexible nylon fabric. Our fabric's clear polyurethane back coating and durable water repellent finish make the fabric ideal for a variety of applications. Common uses of nylon pack cloth are military gear and tactical vests, sporting equipment and duffle bags, backpacks, dust covers, flags, banners, laundry bags,and a variety of other cases and covers.

600 Denier Polyester

A great alternative to our 1000 denier Cordura. Our 600 Poly is available in many colors and has a heavy duty PVC coating on the back making it great for single layer covers, pouches, bags and totes.

1050 Cordura® Ballistic

A tough, synthetic fabric. The 2x2 basket weave of the Ballistic nylon makes this fabric the top choice for rugged applications where durability and tear/abrasion resistance are a high priority. This fabric is a popular choice in manufacturing soft sided luggage, vests and jackets, duffel bags, tool belts, heavy duty protective covers and a variety of custom applications.

Vinyl Fabric

Herculite 80® brand military fabric is stocked in 18 ounce weight and is available in a variety of colors. Produced with woven polyester scrims for high tear resistance, it is waterproof, mildew and ultra violet light resistant and flame resistant to Federal standard 191-5903. These military fabrics areproduced to conform to mil-C-43006 and other applicable quality standards.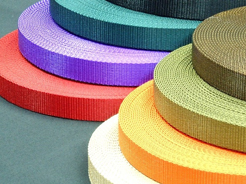 Webbing
We have a variety of webbing styles, sizes and colors to choose from. Standard sizes are 5/8", 1', 1.5" and 2" but others may be available.
Styles are: Polypropylene, Nylon, mil Spec: Mil-W-4088, Mil-W-17337, Mil-W-5038, Mil-W-43668, Mil-W-530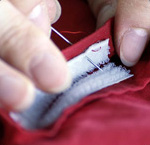 Velcro
Velcro® brand is our fastener of choice. We offer both Commercial and AA55126 compliant hook and loop fasteners in a range of sizes and colors.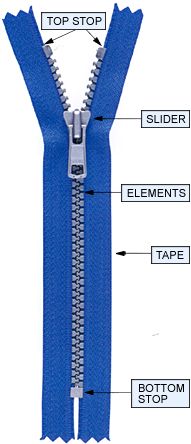 Zipper
YKK is the only brand when you need a zipper to work every time and coil is our style of choice. With plastic coil teeth you never have to worry about rust or corrosion. We have 3 sizes to choose from, standard #5, Medium Duty #8, and Heavy Duty #10. Standard color is black but other colors are available upon request. Zipper Sliders come with a standard tab. Custom tabs are available but minimums may apply.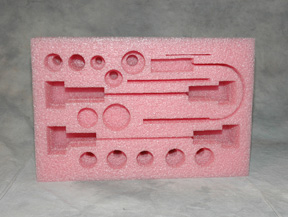 Foam
Whether you need minimum padding for lightweight applications or super thick padding for expensive equipment we have the right foam for you. Choose from polyurethane, polyethylene, polyester or crosslink. Standard thicknesses are 1/4", 3/8", 1/2" and 1" Other sizes are available.
Types of foam padding
We can offer foam padding in 3 variations.
1.Padded foam walls of the case where we sew the foam directly between layers of fabric. giving the case shape and a protective outer layer.
2.Custom foam inserts similar to the picture on the left. these fit right into the case and allow you to place items into the case with out fear of them shifting.
3.Pick N Pluck Foam- Sheets of small foam squares that you pull out to your own pockets or shapes.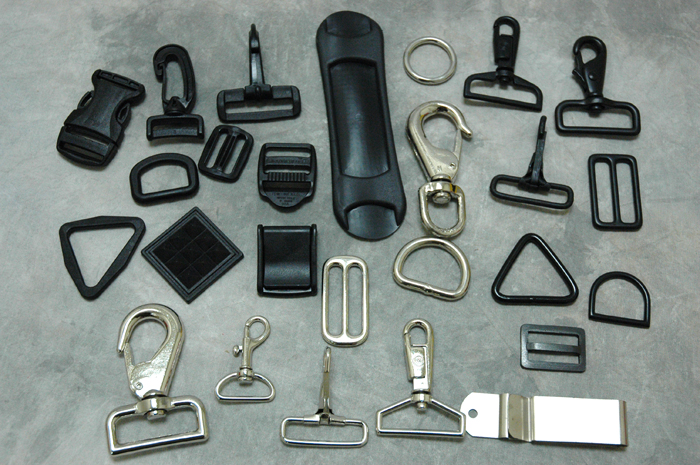 Hardware
Fieldtex Products stocks a vast array of hardware. We have Nexus brand plastic (acetyl) D-rings, side-release buckles, retainers, snaphooks both swivel and stationary. We also carry metal hardware in both nickel and black along with some cadmium. There is also an assortment of shoulder pads and fabric, id tags, luggage tags, gromets, rivets, glove fasteners and more.
We use top of the line ITW Nexus and Duraflex plastic hardware for most applications however black metal and nickel plated hardware is available for more robust applications. From quick release buckles to sliders, cams, and snap-hooks, if we don't have it, we can get it.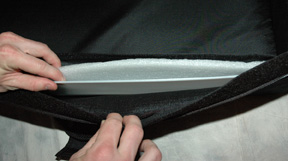 Hardboard
When a soft case is desired but you need that extra rough and tumble feel adding the right stiffener can make all the difference. We stock .120 chipboard, .040 & .60 ABS plastic(Acrylonitrile butadiene styrene), .060 and .093 HDPE plastic (High-density polyethylene), and 1/8" thick tempered masonite