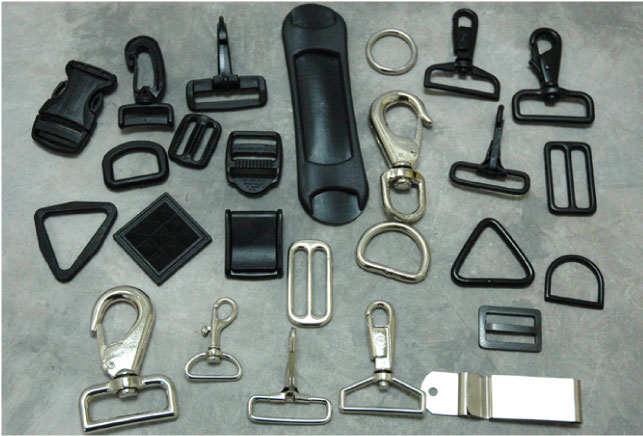 STOCK HARDWARE FOR CARRYING CASES AND BACKPACKS
Designing a carrying case or backpack requires choosing the right hardware that will hold up in the field. Over the last 50 years, Fieldtex has built a large inventory of stock hardware styles as well as a network of hardware suppliers that have the ability to find any piece of hardware you might need.
We've got just what you need to give your case or backpack long-lasting durability. Whether you are providing backpacks for the military or developing a new medical bag around a device, we can provide the perfect hardware for the project. Our extensive selection of hardware includes Hooks, O-Rings, Buckles, Rivets, Case Feet, Cord Ends, Snaps, shoulder strap pads, and many other plastic and metal parts for carrying cases and backpacks.
WHAT IS CARRYING CASE HARDWARE?
Hardware is the general term for metal fittings used to reinforce a case or upgrade the style and aesthetic. Parts in the hardware family include the likes of D rings, rivets, case feet, metal buckles, plastic buckles, closures, and more. Carrying case and backpack hardware can be both functional and decorative in purposes, making it a simple way to change the look and branding of your bag.
WHAT KIND OF CASES AND BACKPACKS DO WE HAVE HARDWARE FOR?
We have hardware options perfect for medical bags, backpacks, and holsters. Classic metal finishes in silver or stainless steel complement various fabrics and colors, creating a style that looks sharp and remains durable. Deciding on what hardware a case should use is often times forgotten when developing a bag for an industrial requirement, but we can provide a large sampling of options when the time comes.
WHAT ARE RIVETS USED FOR?
Typically, our customers use rivets to add some style to carrying cases. Rivets are a popular mechanical fastener used to join two or more materials. A rivet consists of a head at one end and a cylindrical body at the other end. A rivet is designed to support tension on each end of the connection.
IF WE DON'T HAVE THE BAG HARDWARE YOU NEED, CAN WE SOURCE IT?
Fieldtex provides a wide selection of bag hardware, but if we don't have what you need, our suppliers will, including butterfly clasps, magnetic snaps, carabiners, side release buckles, D-Rings, and seatbelt buckles. Choose from a variety of materials and finishes to find the perfect pieces for your project.